Kyle Gann: Faith (1984)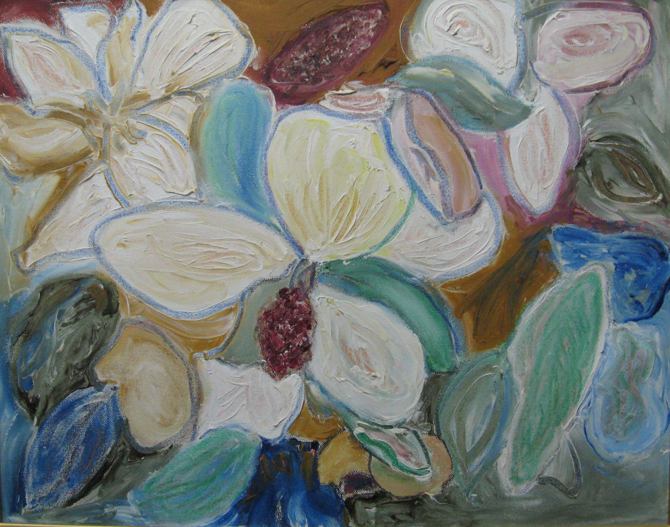 My maternal grandmother, Frances Gill Harris Ross Dyess (so named by the last of her three marriages), was an amateur painter and poet who spent most of her life in Jennings, Louisiana. She was fascinated by snow and saw it only once, on a trip to Chicago, but she painted snow scenes copied from pictures in magazines. Her talent, though, was painting magnolia blossoms (right). Her favorite poem was "Faith" by Ella Wheeler Wilcox:
I will not doubt, though all my ships at sea
Come drifting home with broken masts and sails;
I will believe the Hand that never fails,
From seeming evil worketh good to me.
And though I weep because those sails are tattered,
Still will I cry, while my best hopes lie shattered:
"I trust in Thee."
I will not doubt, though sorrows fall like rain,
And troubles swarm like bees about a hive;
I will believe the heights for which I strive
Are only reached by anguish and by pain;
And though I groan and tremble with my crosses,
I yet shall see through my severest losses
The greater gain.
I will not doubt, anchored in my faith,
Like some staunch ship, my soul braves every gale;
So strong its courage that it shall not quail
To breast the mighty unknown sea of death.
O, may I cry, when body parts with spirit,
"I do not doubt," so listening worlds may hear it,
With my last breath.
Other versions of the poem, under other titles, are current, but these are the words as my grandmother had them.
After visiting Grandmother at her last home near Jackson, Mississippi, I set the poem to music and sent her a tape of it. The song has proved popular among people who've found it, and has been sung in many churches.
MP3 recording; Martha Herr, soprano; Kyle Gann, piano
- Kyle Gann
Return to List of recordings and scores
Return to List of compositions

return to the home page